---
Sphalerite
from northwest England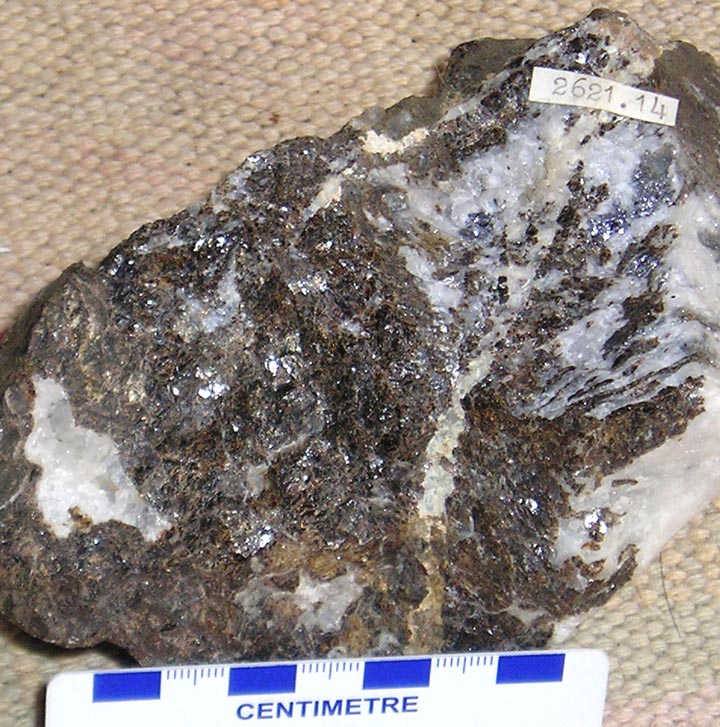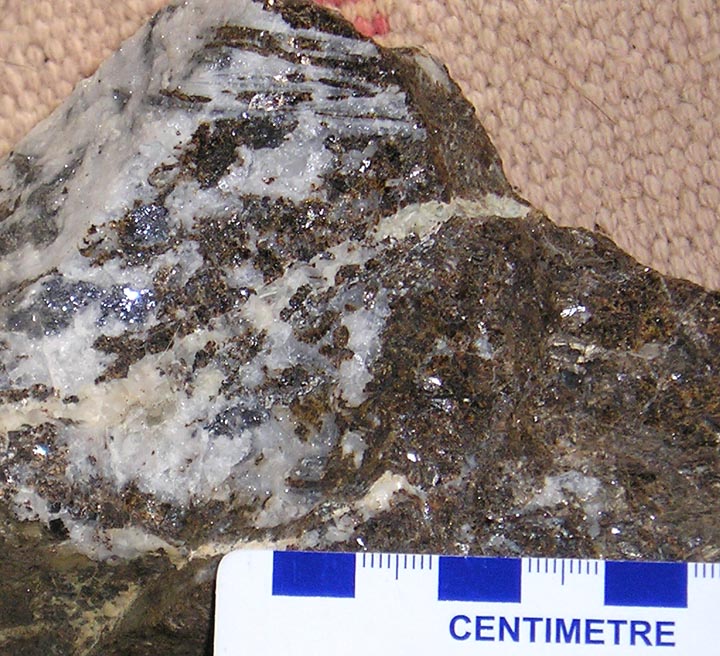 ---
"Rock of the Month # 59, posted for May 2006" ---
Sphalerite, ZnS is the principal ore of zinc. Here is a nice sample of rich brown sphalerite (60 volume percent) with banded to drusy, bright white quartz (35%), studded with masses of grey galena (3%) and traces of limonite and malachite. The sample is cut by a late planar veinlet of creamy-white calcite (2%). The sphalerite displays rich brown internal reflections. Occurring for the most part in irregular masses, blue-grey to white quartz and the zinc sulphide have locally crystallized together in alternating plates just 1-2 mm thick. At 15x8x7 cm, the sample is quite dense (weight 1933 grams), and one side is scored by the cylindrical trough-like impression of a drill bit.
This sample is from a classic British collecting locality, the Roughtongill Mines on the Caldbeck Fells of the Lake District in northwest England. Sample 2621.14, collected from mine waste on the east side of Roughtongill, 02 March 1977. The mines of the Lake District were important in early British mineral collecting and systematic mineralogy. Ores of lead, zinc, silver, copper, tungsten, barium and other metals were won from the mines (Shaw, 1972). As well as the primary ore minerals, a range of colourful secondary salts have been collected in the area, such as the lead phosphate and arsenate, pyromorphite and mimetite (Cooper and Stanley, 1991).
Historically, the complex sample number merits a note of its own. The Dana System of Mineralogy, and particularly the first two, stout volumes, represent a venerable treasure trove of mineralogical and crystallographic lore. One of the great classic reference works of mineralogy, the compendium was devised and expanded by James Dwight Dana and Edward Salisbury Dana (Yale University, in six editions published 1837-1892). The Dana system numbers each mineral species according to a chemical classification. Thus sulphides (selenides and tellurides) are class 2, within which species of formulae AX are type 6. Within type 6, group 261 is the galena group, and galena itself, PbS, is mineral 2611. Group 262 is the sphalerite group, including sulphides such as sphalerite (ZnS, 2621, pp.210-215) and metacinnabar (2622), while the chalcopyrite group and the eponymous mineral are 263 and 2631 respectively (Palache et al., 1944). In this collection, the figured specimen would be the 14th sample of sphalerite.
References
COOPER,MP and STANLEY,CJ (1991) Famous mineral localities: pyromorphite group minerals from the Caldbeck Fells, Cumbria, England. Mineral.Record 22, 105-121.
PALACHE,C, BERMAN,H and FRONDEL,C (1944) The System of Mineralogy of James Dwight Dana and Edward Salisbury Dana. Volume 1, Elements, Sulfides, Sulfosalts, Oxides. John Wiley and Sons, Inc., New York. 7th edition, revised and enlarged, 834pp.
SHAW,WT (1972) Mining in the Lake Counties. Dalesman Publ.Co.Ltd., Clapham, second edition, 125pp.
Graham Wilson, 26 October 2006 (posted rather late - it's been a busy year!)


Visit the Turnstone "Rock of the Month" Archives!

Look inside sphalerite from Baffin Island
---