---
L Chondrite Breccia
from Northwest Africa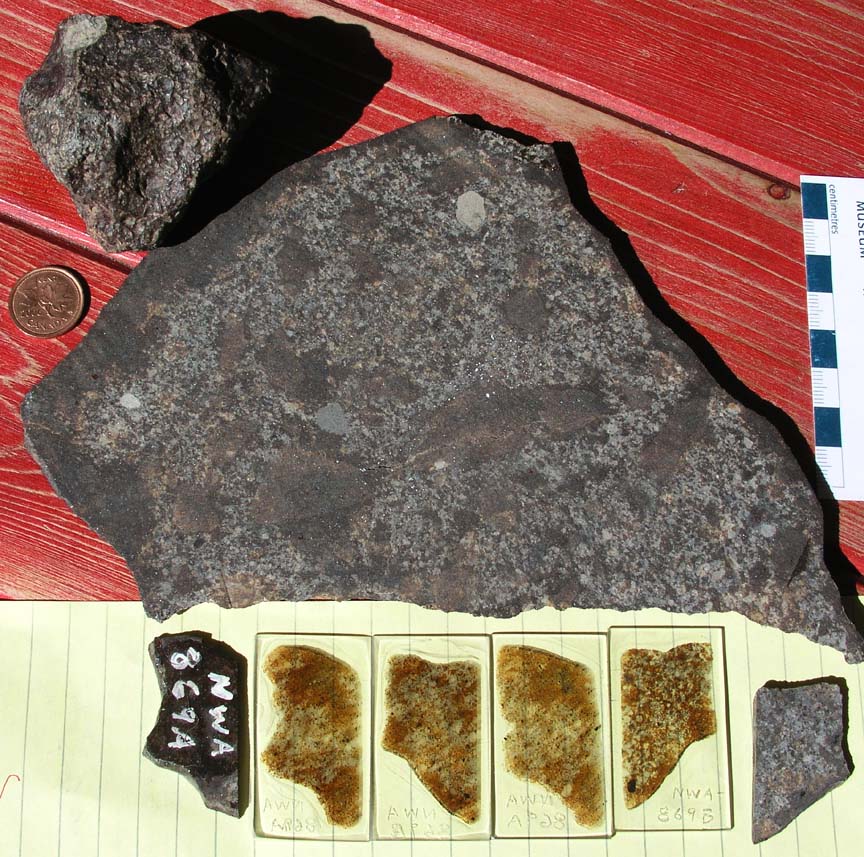 ---
"Rock of the Month # 83, posted for May 2008" ---
This is an L4-L6 ordinary chondrite meteorite, NWA 869. It was recovered from Morocco, north Africa at an undisclosed location. The illustrated material was acquired from Blaine Reed Meteorites, Delta, Colorado, 2008. Reported L4-L6 breccia (W1 S3), a large find for an NWA meteorite, and for a chondrite, with some 2-3 tonnes known.
The material displays cm-scale brecciation, chondrules, and mm-scale masses of Ni-Fe metal. The main slice is 20x12x0.55 cm (326 g), exhibiting the internal texture. An individual mass (204 g, 55x50x38 mm) shows a brownish weathering rind. A small slice (30x50x5 mm, 25 g) was cut to prepare four polished thin sections for more detailed study. Optical observations of these sections (Turnstone Report 2008-104P) are consistent with the official classification. The four sections contain, by visual estimate, some 70% granular matrix, 15% chondrules, 12% kamacite and troilite, 2% coarser silicate grains and 1% fine-grained achondritic inclusions.
The measured bulk magnetic susceptibility of this slice averaged 67.4x10-3 SI units, quite strongly magnetic. Available larger pieces and bags of fragments of this meteorite, circa 0.2-2 kg in mass, yield mean estimates of 60-96, equivalent to log(χ) of 4.80-4.98 (4.83 in this case), maximum individual reading 120 (log(χ)=5.08).
All samples display some dimpled fusion crust. Brown, rather waxy lustre on weathered surface. Slices with abundant, erratically distributed metal grains, chondrules, and rounded, pale, very fine-grained inclusions.
Due to its unusual size (Connolly et al. , 2006, pp.1386-1387) and availability, NWA 869 seems destined to become a staple of many future meteoritic studies. Note that the compilers of the Meteoritical Bulletin suspect that it will be paired with various other NWA meteorites, and that the classification of material under this name should be confirmed prior to publication. An early study was published by Osawa and Nagao (2006) and a number of subsequent publications are listed below. NWA 869 is represented in numerous collections around the world, including the Royal Ontario Museum and UCLA, the home of the type specimen.
References
Connolly,HC, Zipfel,J, Grossman,JN, Folco,L, Smith,C, Jones,RH, Righter,K, Zolensky,M, Russell,SS, Benedix,GK, Yamaguchi,A and Cohen,BA (2006) The Meteoritical Bulletin No.90, 2006 September. Meteoritics & Planetary Science 41, 1383-1418.
Osawa,T and Nagao,K (2006) Noble gases in solar-gas-rich and solar-gas-free polymict breccias. Antarctic Meteorite Research 19, National Institute of Polar Research, Tokyo, 58-78.
Norton,OR and Chitwood,LA (2008) Field Guide to Meteors and Meteorites. Springer-Verlag London Limited, 287pp.
Krzesinska,A and Siemiatkowski,J (2009) Petrographic description of meteorites thin sections from "Jacek Siemiatkowski collection". Meteoritics & Planetary Science 44, A117.
Tomkins,AG (2009) What metal-troilite textures can tell us about post-impact metamorphism in chondrite meteorites. Meteoritics & Planetary Science 44, 1133-1149.
Metzler,K, Bischoff,A, Palme,H and Gellissen,M (2010) Impact melt rocks from the L3-6 chondritic regolith breccia Northwest Africa (NWA) 869. Meteoritics & Planetary Science 45, A137.
Metzler,K, Bischoff,A, Greenwood,RC, Palme,H, Gellissen,M, Hopp,J, Franchi,IA and Trieloff,M (2011) The L3-6 chondritic regolith breccia Northwest Africa (NWA) 869: (I) petrology, chemistry, oxygen isotopes, and Ar-Ar age determinations. Meteoritics & Planetary Science 46, 652-680.
Warin,R and Kashuba,J (2011) NWA 869: a rarity for the common man. Meteorite 17 no.4, 21-23.
Welten,K, Caffee,MW, Franke,L, Jull,AJT, LeClerc,MD, Metzler,K and Ott,U (2011) The L3-6 chondritic regolith breccia Northwest Africa (NWA) 869: (II) Noble gases and cosmogenic radionuclides. Meteoritics & Planetary Science 46, 970-988.
Graham Wilson, posted 04 July 2008, extended 05 January 2009 and 15 October 2012

Visit the Turnstone Meteorite Index

or the broader "Rock of the Month" Archives!
---