---
Jade
from northern British Columbia, Canada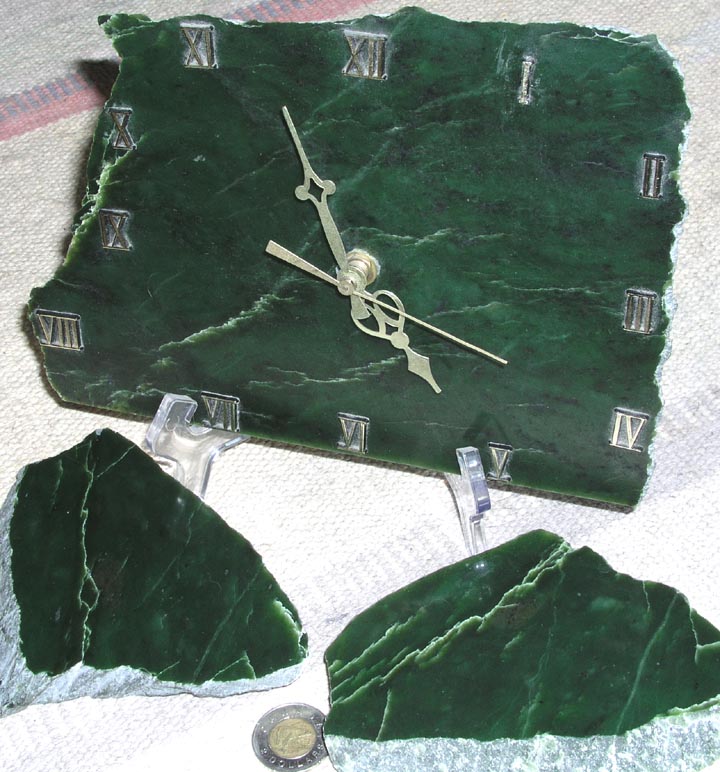 ---
"Rock of the Month # 70, posted for April 2007" ---
Dense, lustrous green jade from northern B.C. is a tough and beautiful material, and some is suitable for uses in jewellery and carving. The clock in the photograph, which has functioned for more than 20 years, was crafted by A.J. Macdonald. The $2 coin is 27 mm in diameter. The slab at lower left weighs 447.63 grams, bulk magnetic susceptibility 0.243x10-3 SI units.
---
British Columbia has a number of colourful semi-precious stones, including pink rhodonite and vesuvianite, but the best-known by far is jade (Leaming, 1978). A detailed review of jadeitite and nephrite jades around the world has been published recently (Harlow et al., 2007). Nephrite is a rock composed largely of the tremolite-actinolite series of calcic amphiboles. It is a massive rock, composed of felted masses of amphibole prisms, and this makes it tough and good for carving. It is more common than the pyroxene-dominated jade variety, jadeitite, and tends to be used for sculpture rather than jewellery. Nephrite is also the common jade found in archaeological sites.
Nephrite mined in B.C. is commonly sent to markets in Taiwan, China and Thailand. One region with a number of occurrences is the Dease Lake- Kutcho Creek area, in the north of the province. The green stone, regardless of origin, has great popular appeal, like opal and the many coloured varieties of quartz, and it is sought and treasured around the world (Ward, 1987; Scott, 1996).
References
Harlow,GE, Sorensen,SS and Sisson,VB (2007) Jade. In `Geology of Gem Deposits' (Groat,LA editor), MAC Short Course 37, 270pp., 207-254.
Leaming,SF (1978) Jade in Canada. GSC Pap. 78-19, 59pp.
Scott,A (1996) Jade, the mystical mineral. Equinox 89, 62-69, October.
Ward,F (1987) Jade, stone of heaven. National Geographic 172 no.3, 282-315, September.
Graham Wilson, posted 06 September 2007, minor update on 20 September 2012.

Visit the Turnstone "Rock of the Month" Archives!
---