is element 74, a unique metal with numerous uses. It does not occur as a native metal, but chiefly as tungstates like wolframite and its calcium analogue, scheelite (CaWO4, 63.85 wt% W). It is very dense, with a specific gravity of 19.25, very close to that of gold. Tungsten retains its strength at high temperatures, and thus has seen more than a century of service in the filaments of incandescent light bulbs (see Oliver Sacks' entertaining "Uncle Tungsten" in this context: Sacks, 2001). A very hard metal, it is used in many cutting tools. One modern high-speed machining steel for cutting metals contains about 18% W, 4.25% Cr, 1.1% V and 0.75% C (Street and Alexander, 1998, pp.218-219). Tungsten carbide is one of the hardest substances known, and is employed in rock drilling and tunnel boring. Tungsten has been used in shielding against x-ray and gamma radiations. Its density sees it used in counterweights, and to balance high-quality darts, for a game popular in Cornish pubs and elsewhere.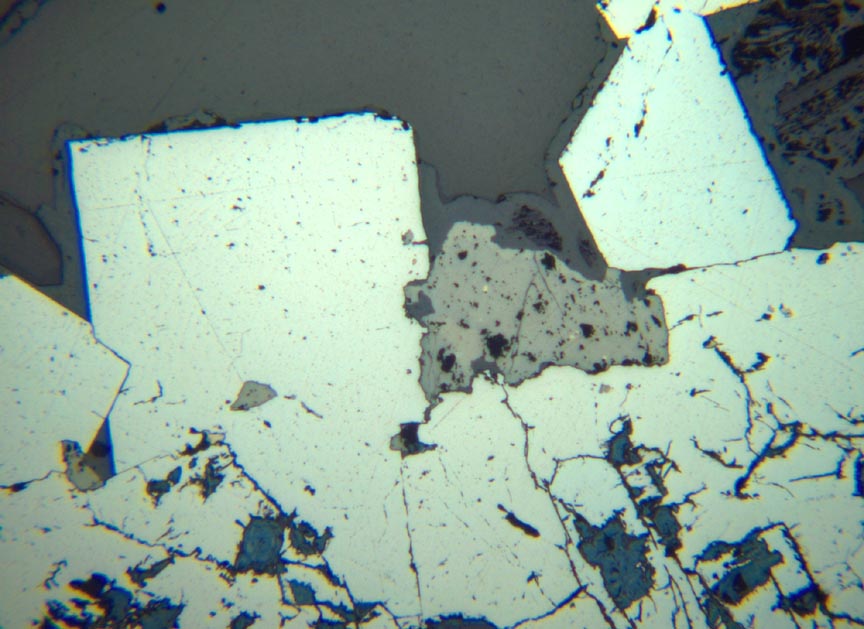 Figure 6. The greyish mineral just right of centre is identified as a tin-rich sulphide of the stannite family, associated with euhedral arsenopyrite crystals on the edge of a quartz vein. The blue phase is a very fine-grained covellite, perhaps formed from chalcopyrite replacing the arsenopyrite. Sample 973. Nominal magnification 50X, in plane-polarized reflected light, long-axis field of view 1.7 mm.
References
Aldersey-Williams,H (2011) Periodic Tales: a Cultural History of the Elements, from Arsenic to Zinc. HarperCollins, 428pp.
Atkinson,K, Edwards,RP, Mitchell,PB and Waller,C (1990) Roles of industrial minerals in reducing the impact of metalliferous mine waste in Cornwall. Trans.Inst.Min.Metall. A99, 158-172.
Camm,S (1995) Gold in the Counties of Cornwall & Devon. Cornish Hillside Publications, St. Austell, Cornwall, 116pp.
Campbell,AR and Panter,KS (1990) Composition of fluid inclusions in coexisting (cogenetic?) wolframite, cassiterite, and quartz from St. Michael's Mount and Cligga Head, Cornwall, England. Geochim.Cosmochim.Acta 54, 673-681.
Dines,HG (1969) The Metalliferous Mining Region of South-West England. Institute of Geological Sciences, 2 vols, 795pp., published in 1956 and amended in 1969.
Embrey,PG and Symes,RF (1987) Minerals of Cornwall and Devon. British Museum (Natural History) / Mineralogical Record Inc., 154pp.
Hall,A (1969) The geochemistry of the Cligga Head granite. Proc. Ussher Soc. 2, 136-140.
Jackson,NJ, Moore,JMcM and Rankin,AH (1977) Fluid inclusions and mineralization at Cligga Head, Cornwall, England. Quart.J.Geol.Soc. 134, 343-349.
Kingsbury,AWG (1958) Two Be minerals new to Britain: euclase and herderite. Mineral.Mag. 31, 815-817.
Kissin,SA and Owens,DR (1989) The relatives of stannite in the light of new data. Can.Mineral. 27, 673-688.
Moore,F (1980) The Geology and Mineralisation of St. Michael's Mount and Cligga Head Granites, Cornwall. PhD Thesis, King's College, London, 288pp.
Moore,F and Howie,RA (1984) Tin-bearing sulphides from St Michael's Mount and Cligga Head, Cornwall. Mineral.Mag. 48, 389-396.
Moore,F and Swart,PK (1979) The uranium content of ore minerals from St. Michael's Mount and Cligga Head, Cornwall. Proc. Ussher Soc. 4 part 3, 432-436.
Moore,JMcM (1977) Exploration prospects for stockwork tin-tungsten ores in S.W.England. Mining Magazine 136 no.2, 97-103, February.
Moore,JMcM and Jackson,N (1977) Structure and mineralization in the Cligga granite stock, Cornwall. Quart.J.Geol.Soc. 133, 467-480.
Rashed,AM (1951) The Greisenization of the Cligga Head Granite. PhD Thesis, Cambridge University, 134pp.
Reid,C, Scrivenor,JB, Flett,JS, Pollard,W and MacAlister,DA (1906) The Geology of the Country Near Newquay. Geol.Surv. G.B. Memoir 346, 131pp. + 6 plates.
Russell,A (1924) Topaz from Cornwall, with an account of its localities. Mineral.Mag. 20, 221-236.
Russell,A and Vincent,EA (1952) On the occurrence of varlamoffite (partially hydrated stannic oxide) in Cornwall. Mineral.Mag. 29, 817-826.
Sacks,OW (2001) Uncle Tungsten: Memories of a Chemical Boyhood. A.A. Knopf, 337pp.
Sanderson,DJ, Roberts,S, Gumiel,P and Greenfield,C (2008) Quantitative analysis of tin- and tungsten-bearing sheeted vein systems. Econ.Geol. 103, 1043-1056.
Scrivenor,JB (1903) The granite and greisen of Cligga Head (Western Cornwall). Quart.J.Geol.Soc. 59, 142-159.
Smith,MP and Yardley,BWD (1996) The boron isotopic composition of tourmaline as a guide to fluid processes in the southwestern England orefield: an ion microprobe study. Geochim.Cosmochim.Acta 60, 1415-1427.
Street,A and Alexander,W (1998) Metals in the Service of Man. Penguin Books, 11th edition, 300pp. plus 32 plates.
Thorne,MG and Edwards,RP (1985) Recent advances in concepts of ore genesis in south west England. Trans.Roy.Geol.Soc.Corn. 21 part 3, 113-152.
Willis-Richards,J and Jackson,NJ (1989) Evolution of the Cornubian ore field, Southwest England: Part I. Batholith modelling and ore distribution. Econ.Geol. 84 no.5 (Mineral Deposits of Europe issue), 1078-1100.
Wilson,GC (1980) Ion Microprobe Techniques, with Applications to Analysis of Lithium in Cornish Granites. PhD Thesis, University of Cambridge, 245pp.
Wilson,GC (1988) Some thoughts on the geology and mining history of the Perranporth area. Turnstone Geol.Serv.Ltd. Report, 11pp.
Wood,SA and Samson,IM (2000) The hydrothermal geochemistry of tungsten in granitoid environments: I. Relative solubilities of ferberite and scheelite as a function of T, P, pH, and mNaCl. Econ.Geol. 95, 143-182.
Graham Wilson, 02-10 January 2014


Visit the Turnstone "Rock of the Month" Archives!
---