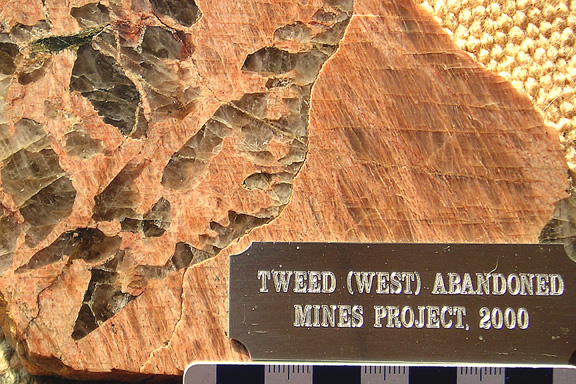 ---
"Rock of the Month # 102, posted December 2009" --- Sample GCW 2140. A pink granitic pegmatite from the old Crystallite (Carfrae) granite quarry in Herschel township, Hastings county, southeastern Ontario, Canada. Sample collected loose in a small quarry (not to be confused with the Crystallite dolomite quarry, in Faraday township). This granite is from the Mesoproterozoic Grenville province of the Canadian shield. Herschel township lies in the seventh tier of eight ranks of townships extending northwards from Lake Ontario, comprising the sprawling south-north entity of Hastings county. This is a large county, prosperously agricultural and locally urban near the lake, in the first areas of European settlement, but more rocky, with thinner soils, and sparsely inhabited northwards onto the Canadian shield, an area of many lakes, now much favoured for tourism.
---
A coarse-grained, pink to salmon-coloured granitic pegmatite, with much quartz-feldspar intergrowth ("graphic granite") and impressive pink perthitic alkali feldspar (probably microcline), smoky quartz, and traces of the iron oxide magnetite. The attractive grey wash in the quartz may be due to low-intensity radiation damage. The sample comes from the northern flank of a belt of alkaline igneous rocks, and uranium showings including four past-producing mines, trending WSW through the nearby town of Bancroft.
Perthite, beautifully displayed in this sample, is the term applied to exsolution of thin, curving laminae of sodic plagioclase feldspar within host alkali feldspar (orthoclase or microcline). It is often mm-scale and visible to the naked eye in pegmatites, but even more often found as a microscopic development in finer-grained igneous rocks. It was named in the 19th century, in the neighbourhood of the towns of Perth and Westport, west of Ottawa, for pegmatitic feldspar in small intrusions of the Grenville province. Sabina (1983) recounts the story of the naming of perthite in 1843, an apparently new mineral, and certainly a novel mineral variant, discovered by James Wilson of Perth on the Dobey farm near the west shore of Adam Lake. She also notes how Wilson, a medical doctor, was commemorated in 1853 by T.S. Hunt of the Geological Survey of Canada in a new mineral name wilsonite. The latter, like perthite, is not actually a discrete mineral species, but a variant of an existing mineral group, scapolite. Wilsonite is now a mineralogical footnote, but perthite has endured, a term used around the world wherever granites and granitic pegmatites are encountered.
The rock shown herre is very brittle, so cutting and polishing slices such as this was a challenge. Extremely observant readers may spot that the rock of this commemorative plaque, and the perthite fabric, has for years been featured elsewhere on the Turnstone web site, including the e-mail flags and front-page buttons!
Thousands of old, mostly abandoned mining sites across Ontario were surveyed in 2001 as a second-stage effort to catalogue abandoned mines and identify and safeguard those features (a very small proportion overall) that offered clear hazards such as open shafts and stopes, an in-house tool for the provincial government. These sites were surveyed in eight areas covered by chosen contractors. Each location is covered by either the provincial Mining Act or Aggregate Resources Act (the latter mostly pits and quarries for limestone, granite, sand and gravel). Quarries and mines in the Grenville province lie in southern Ontario: supporting files are kept in Sudbury and in the local Resident Geologist's office in Tweed. The program, the Abandoned Mines Inventory Survey (AMIS) can be queried on the web pages of the Ontario Ministry of Northern Development and Mines (MNDM, which includes the Ontario Geological Survey, OGS, originally the Ontario Bureau of Mines and then, until 1975, the Ontario Department of Mines). In the case of AMIS, only a modest portion of the data are available on-line. The AMIS on-line data do have some general utility. The database serves to reflect in a general way the contribution of a township or area to mineral extraction: Herschel township has 10 entries, nearby Cardiff township has 30, Madoc township 69, and Seymour township (just south of the Shield, on the limestone platform 120 km south of Bancroft) just one site. The on-line data generally include the principal commodity extracted from each site. Overall, however, mineral enthusiasts and professional researchers may find more information in the numerous rockhound compilations that exist for the region, and especially the Bancroft district, and in the many reports and assessment files on the MNDM web site. A selection of local and district-relevant publications are provided below.
References, including a modest bibliography for Herschel township
Barnett,PJ (1989) Quaternary Geology of the Bancroft Area, Southern Ontario. OGS Report 262, 93pp. plus OGS map 2500, 1:50,000 scale.
Boyce,GE (1967) Historic Hastings. Ontario Intelligencer Limited, Belleville, Ontario, 387pp. plus map.
EMR Canada (1975) Bancroft. Energy, Mines and Resources Canada, NTS sheet 31F/4, 1:50,000 scale topographic map.
Fouts,C (1998) Bancroft & District Mineral Collecting Guidebook. Bancroft & District Chamber of Commerce, 50pp.
Goad,BE (1990) Granitic Pegmatites of the Bancroft Area, Southeastern Ontario. OGS OFR 5717, 459pp. plus 115 figures.
Hewitt,DF (1967) Uranium and thorium deposits of southern Ontario. ODM MRC 4, 76pp.
Hewitt,DF (1969) Geology and Scenery, Peterborough, Bancroft and Madoc Area. ODM Geological Guide Book 3, 114pp.
London,D (2008) Pegmatites. Canadian Mineralogist Spec.Publ. 10, 347pp. + CD-ROM.
Ontario Department of Mines (1957) Haliburton-Bancroft area. ODM Map 1957b (1:126,720).
Sabina,AP (1983) Rocks and Minerals for the Collector: Kingston, Ontario to Lac St-Jean, Quebec. Geological Survey of Canada Misc.Rep. 32 (revised version of GSC Pap. 67-51), 130pp.
Sabina,AP (1986) Rocks and Minerals for the Collector: Bancroft - Parry Sound area and Southern Ontario. Geological Survey of Canada Misc.Rep. 39, 182pp.
Satterly,J (1957) Radioactive mineral occurrences in the Bancroft area. ODM Ann.Rep. 65 part 6, 181pp. plus 23 separate figures.
Thomson,JE (1942) North Hastings area, province of Ontario. ODM map 52b, 1:126,720 scale.
Thomson,JE (1943) Mineral occurrences in the North Hastings area. ODM Ann.Rep. 52 part 3, 80pp.
Udd,JE (1999) The Mines of Ottawa: A Guide to the Mineral Deposits of Southeastern Ontario and Southwestern Quebec. CJ Multi-Media Inc., 89 Ridgefield Crescent, Nepean, Ontario, 1st edition, 375pp.
Graham Wilson, 02 December 2009

Visit the Turnstone "Rock of the Month" Archives!

See another example of "Grenville pegmatite" with additional references.

View a younger pegmatite from "Cornwall, England".
---