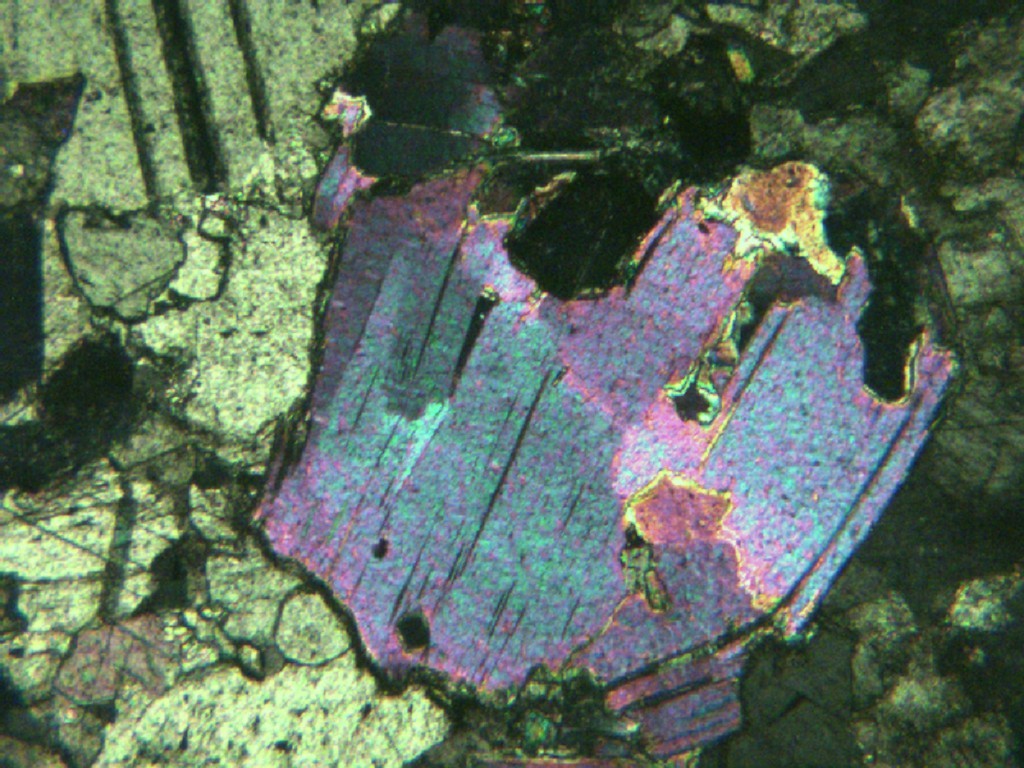 ---
"Rock of the Month # 51, posted for September 2005" --- Marble sample 317.16 was collected near Iamairaghradain, Glenelg, Invernesshire (Ordnance Survey, 1955 and later maps). This area is part of the Eastern Glenelg Inlier of Lewisian (late Archean) age, with a Grenville (mid-Proterozoic) overprint. Sample presented by Andy Papworth (sample R485). Other late Archean Lewisian marbles occur in western Scotland, e.g., on the islands of Tiree and Iona (Whitehouse and Russell, 1997). An elegant early description can be found in Harker (1932, pp.256-259).
This digital image, 2005, depicts a coarse phlogopite mica flake in marble. Nominal magnification 50X, long-axis field of view 1.6 mm, in crossed-polarized transmitted light. This marble is dominated by calcite and forsterite plus secondary serpentine, with lesser dolomite, phlogopite, diopside, chondrodite and accessory sulphides. The latter are the same assemblage seen in the charnockite terrane around Kodaikanal in the Palni (Palani) Hills of Tamil Nadu state, south India. The Glenelg rock is part of a complex inlier of Archean (Lewisian) age.
---
In hand specimen this is a grey-white marble, dark on weathered surfaces, with rounded greenish-black diopside and serpentinized olivine plus lesser, pale orangey-brown chondrodite, cut by a thin, pale green serpentinized fracture. Not appreciably magnetic, intense effervescence in dilute HCl on the calcitic matrix. The rock consists of approximately 60 volume percent calcite, plus forsteritic (magnesian) olivine (15%); serpentine (12%); dolomite (5%); phlogopite mica flakes (5%); diopside (2%); chondrodite (1%); and traces of the sulphides pyrite, pyrrhotite and chalcopyrite.
Texture: A massive, granular marble, appreciably serpentinized, preserving an interesting mineral assemblage. Many olivine grains are partially replaced by pseudomorphs of fibrous serpentine networks, plus local patches of phlogopite flakes. Small anhedral aggregates of sulphide are present, up to 0.6x0.2 mm in section. The sulphide appears to have formed late, in sutured contact with host carbonate, on margins of part-altered olivines. The history of the area is long and complex, a Lewisian inlier of diverse lithologies which apparently underwent high-grade late-Archean (Scourian) metamorphism, perhaps with Inverian retrogression at the end of the Archean, and a second high-grade event of Grenvillian age.
Summary: A partially serpentinized, calcitic forsterite marble with phlogopite, chondrodite, diopside and dolomite. The larger dark green grains appear to be serpentinized olivines. Traces of Fe-Cu sulphides are present. The site lies some 4 km southwest of the garnet-bearing olivine websterite occurrence described by Rawson et al. (2001) and 6 km southwest of the eclogite exposures stretching southward from Totaig on the west shore of Loch Duich. Other eclogites occur within 2 km. Local eclogites are dated at 1100-1000 Ma, leading to speculation that the Moine thrust might be a reactivation of the Grenville Front (Sanders et al., 1984; see also Temperley and Windley, 1997a,b).
References
HARKER,A (1932) Metamorphism, a Study of the Transformations of Rock-Masses. Methuen & Co. Ltd., London, 1st edition, 360pp.
O.S. (1955) Lochcarron. Ordnance Survey one-inch map 26, 1:63,360 scale.
RAWSON,JR, CARSWELL,DA and SMALLWOOD,D (2001) Garnet- bearing olivine- websterite within the eastern Glenelg Lewisian of the Glenelg inlier, NW highlands. Scot.J.Geol. 37, 27-34.
SANDERS,IS, VAN CALSTEREN,PWC and HAWKESWORTH,CJ (1984) A Grenville Sm-Nd age for the Glenelg eclogite in north-west Scotland. Nature 312, 439-440.
TEMPERLEY,S and WINDLEY,BF (1997a) Grenvillian extensional tectonics in northwest Scotland. Geology 25, 53-56.
TEMPERLEY,S and WINDLEY,BF (1997b) Structural evidence for the equilibration and extensional exhumation of Grenvillian eclogites in NW Scotland. GAC/MAC Abs. 22, 147, Ottawa.
WHITEHOUSE,MJ and RUSSELL,J (1997) Isotope systematics of Precambrian marbles from the Lewisian complex of northwest Scotland: implications for Pb-Pb dating of metamorphosed carbonates. Chem.Geol. 136, 295-307.
Graham Wilson, 02 January 2006

Visit the Turnstone "Rock of the Month" Archives!
---