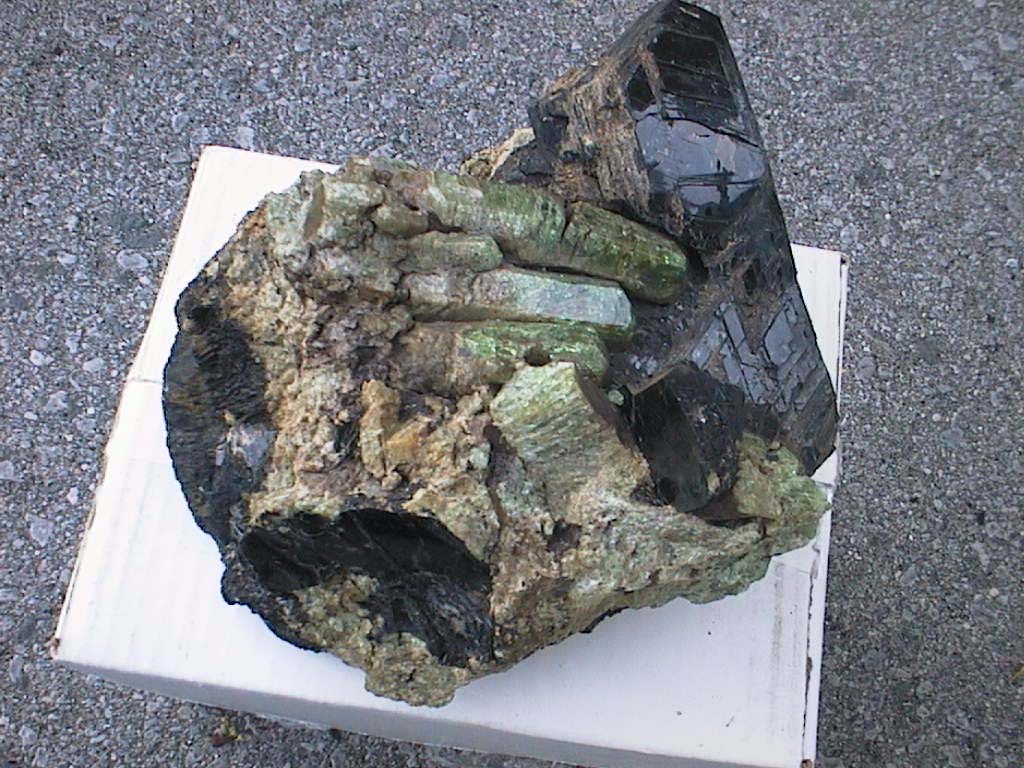 ---
"Rock of the Month # 2, posted August 2001" --- Sample 2072, digital photo by Thach Bui, 2001
---
Apatite is a widespread mineral, a calcium phosphate, historically a source of phosphate for fertilizer. Biotite is a dark brown and very widespread mica, found in all kinds of common igneous and metamorphic rocks. It is generally darker than phlogopite mica, a related species found especially in marbles, skarn deposits and alkaline igneous rocks.

Sample 2072 displays a striking 16x12x10-cm cluster of lustrous green apatite prisms up to 7 cm long, on a matrix of coarse "books" of brownish-black biotite mica up to 12x5x3 cm in size. This specimen comes from the Bear Lake Diggings, a commercial mineral collecting site located near the village of Tory Hill in Monmouth township, southeast Haliburton county, west of Bancroft. Besides prismatic green apatite, this popular rockhound locality offers lustrous sphene, calcite and biotite, amphibole and feldspar, and smaller quantities of other minerals such as quartz and rutile (Anon, 1982; Fouts, 1998). The sample was obtained from Sumar Minerals of Norwood, Ontario.

Mass 2925.99 g, gradually decreasing since the granular phosphate matrix is friable, the mica books flaky! The bulk magnetic susceptibility, as estimated with the 50-mm coil on an SM-30 instrument, is 0.287x10-3 SI units. This result is considered an average estimate for log(χ)=2.46, a good indicator that there is little if any magnetite in the rock.

Phosphate (in the form of crystalline apatite) and mica deposits were mined extensively in southeast Ontario in the second half of the 19th century, continuing with reduced intensity into the 20th century. According to Hewitt (1968), Ontario mica production has been divided roughly 60:40 between the brown phlogopite and the abundant pale species muscovite. He cites provincial records on 63 muscovite mines and 160 phlogopite mines.

References

HEWITT,DF (1968) Phlogopite mica in Ontario. Ontario Department of Mines Mineral Resources Circular 8, 85pp.

ANON (1982) Bancroft's Guide to Rockhounding. Bancroft & District Chamber of Commerce, 17pp.

FOUTS,C (1998) Bancroft & District Mineral Collecting Guidebook. Bancroft & District Chamber of Commerce, 50pp.

Graham Wilson, for August 2001, higher-reoslution image 04 April 2017

Visit the Turnstone "Rock of the Month" Archives!
---