Cedar Waxwing (Bombycilla cedrorum) - local seasonal appearance
Based on 168 observations in Seymour township, Northumberland county, southeast Ontario, 1999-2020.
This attractive bird may be seen singly, but more often in flocks, especially in November to early February. It may be seen in every month of the year. The larger groups are feeding flocks, which appear to consume berries from suitable trees (e.g., mountain ash, cherry). The cedar waxwing breeds across most of the province (Cadman et al., 1987, pp.338-339). The later edition (Cadman et al., 2007, pp.458-459) affirms the presence of the bird, though confirmed breeding is in the western 10-km census squares of the area, closer to Rice Lake.
One often sees a few (1 to 4) birds here and there, year round, and especially in later summer, though seldom in the first half of the year, in recent times. Occasionally one may be lucky enough to encounter a flock of a few tens or hundreds of individuals. They congregate in bare trees and together raise a distinctive, pleasingly gentle squeaking or murmuring tone. They have interesting social behaviours (e.g., Lawrence, 1974). The largest recorded flocks seen in the township comprised approximately 150 birds (02 and 18 December 2001), 300 birds (23-24 December 1999) and 120 and 90 birds (31 January and 02 February 1999). More recently, 240 birds were seen on 02 January 2011, and 30-plus on 29 December 2020. Thus, in contrast to solo birds and small groups, flocks are found in a narrow time window of about 8 weeks, from early December to early February.
The Bohemian waxwing, Bombycilla garrulus, is seen less frequently in southern Ontario, often in company with the more abundant cedar waxwing. A possible sighting was made on 03 December 1999, a month in which the species was seen at numerous locations across southern Ontario, in addition to the single definite sighting of 19 March 2000 (recorded in the 1999-2003 histogram). Bombycilla garrulus is the one waxwing species found in eastern Britain during winter irruptions (Gooders, 1986). Cedar and Bohemian waxwings are two of three true waxwings, within the 8 or 10 bird species in the waxwing family, which includes waxwings and silky flycatchers (see, e.g., Scott, 1974, p.255).
The cedar waxwing is familiar to many across central-eastern Canada and the USA (e.g., Forbush and May, 1939; Eifert, 1945; Bent, 1950). They are hardy, and may show up almost anywhere after a storm (Whelan, 1993, 1994). They are well-loved by birders, from British Columbia (Obee, 2000) to Newfoundland (Godfrey, 1979). Their "Bohemian" cousins in Europe may also appear in large numbers, depending on the availability of food and the vagaries of the weather, as in an "invasion" of England in early 1996 (Elphick, 1997; Wood, 1997).
The cedar waxwing is a common resident at Presqu'ile provincial park, roughly 40 km to the south (LaForest, 1993, pp.290-291). It breeds at the park, and is present in very erratic numbers outside the breeding season. The Bohemian waxwing was noted at the park in three winters from 1977 to 1986, perhaps associated with periodic irruptions from its normal territory. It is a sporadic winter visitor in southern Ontario, breeding in the furthest-north area of the province, the Hudson Bay Lowlands (Cadman et al., 1987, p.548).
In Peterborough county, to the northwest, the cedar waxwing is seen year-round. The Bohemian waxwing is mostly encountered from November to mid-April (Sadler, 1983, pp.126,178).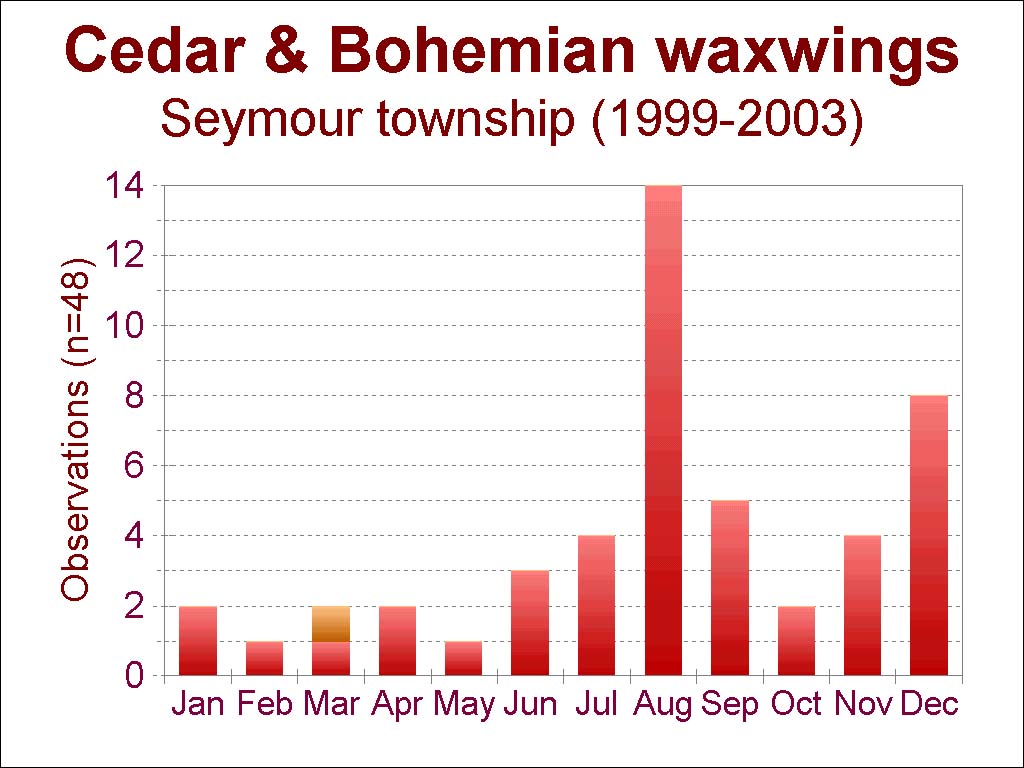 View the complete 22-year (1999-2020) monthly data summary (264-kb pdf file).
References
Bent,AC (1950) Life Histories of North American Wagtails, Shrikes, Vireos and their Allies. Dover Publications Inc., 1965 reprint of Smithsonian Institution Bull. 197, 411 pp. plus 48 plates.
Cadman,MD, Eagles,PFJ and Helleiner,FM (1987) Atlas of the Breeding Birds of Ontario. Federation of Ontario Naturalists and Long Point Bird Observatory, published by University of Waterloo Press, 617pp.
Cadman,MD, Sutherland,DA, Beck,GG, Lepage,D and Couturier,AR (editors) (2007) Atlas of the Breeding Birds of Ontario, 2001-2005. Bird Studies Canada,Environment Canada,Ontario Field Ornithologists, Ontario Ministry of Natural Resources, and Ontario Nature, 706pp.
Eifert,VS (1945) Birds in your Backyard. Native birds in their haunts with a check list for Sangamon county. Illinois State Museum, Popular Science series volume II, 2nd edition, 240pp.
Elphick,J (1997) Winter visitors. Birds 16 no.7, 37-40.
Forbush,EH and May,JB (1939) Cedar waxwing. In `Natural History of the Birds of Eastern and Central North America', Houghton Mifflin Company, Boston, MA, 554pp., 393-396.
Godfrey,WE (1979) The Birds of Canada. National Museums of Canada, Ottawa, 428pp.
Gooders,J (1986) Field Guide to the Birds of Britain & Ireland. Kingfisher Books Limited, London, 288pp.
LaForest,SM (1993) Birds of Presqu'ile Provincial Park. Friends of Presqu'ile Park / Ontario Ministry of Natural Resources, 436pp.
Lawrence,RD (1974) Beauty on the wing. In "Wildlife in North America: Birds", Thomas Nelson & Sons (Canada) Limited, Don Mills, ON, 256pp., 240-243.
Obee,B (2000) A lovely gluttonous bird. Beautiful British Columbia 42 no.4, 43.
Sadler,D (1983) Our Heritage of Birds: Peterborough County in the Kawarthas. Peterborough Field Naturalists / Orchid Press, Peterborough, ON, 192pp.
Scott,P (editor) (1974) The World Atlas of Birds. Mitchell Beazley Publishers Limited, reprinted in 1989 by Crescent Books, 272pp.
Whelan,P (1993) Storm swept birds astray. Globe and Mail, 1p., 20 March 1993.
Whelan,P (1994) Waxwings swarm over St. John's. Globe and Mail, 1p., 08 January 1994.
Wood,S (1997) Waxwings in Essex - the invasion of early 1996. In `The Essex Bird Report 1996', Essex Birdwatching Society, U.K., 153pp., 132-134.

Graham Wilson, posted 31 August 2003, last updated 01 January 2012, 31 December 2020
---
Township Bird List
Local Info
---