LOCATIONS OF TURNSTONE PROJECTS
Research and contract petrography,
analytical work, field projects
Summary: petrography and other work from at least 70 countries, with 50 jurisdictions in North America
(24 US states, 12 Canadian provinces and territories, and 14 Mexican states).
Note: this list refers to contract and research work and relevant analysed samples (including 3,751 detailed descriptions in some 500 reports)
and not to the principal collection of well over 4,000 in-house reference samples. It offers a good summary, but is somewhat out-of-date (2017).
No equivalent comprehensive breakdown by commodity / purpose of investigation is available at present, partly because these categories often overlap.
A partial survey of over 2,000 thin-sectioned samples suggests the following: gold (48%); Ni-Cu-PGE (22%); VMS- sedex- porphyry- MVT- Ag (16%);
archaeology (8%); rare metals, gems and industrial minerals (3%); meteorites (2%); other geology (1%).
AFRICA: Algeria, Botswana, Burkina Faso, Burundi, Egypt, Ethiopia, Ghana, Côte d'Ivoire (Ivory Coast), Liberia,
Madagascar, Mali, Morocco, Namibia, Nigeria, South Africa, Sudan, Tanzania, Western Sahara, Zimbabwe
ASIA (E.): China, Indonesia (Java, Lombok, Kalimantan [Borneo], Sulawesi, Irian Jaya),
Japan, Korea, Laos, Thailand, Malaysia (Sabah), Mongolia, Philippines

ASIA (S. and W.), Middle East: Armenia, India (Karnataka, Kerala, Tamil Nadu),
Iran, Oman, Pakistan, Saudi Arabia, Sri Lanka, Turkey, Yemen
EUROPE: Albania, Czechoslovakia, Greece, Norway, Portugal, Romania, Russia,
Spain, Sweden, Ukraine and the United Kingdom (England, Scotland, Wales)
AUSTRALIA and OCEANIA: NSW, NT, QLD, TAS, WA, New Caledonia
---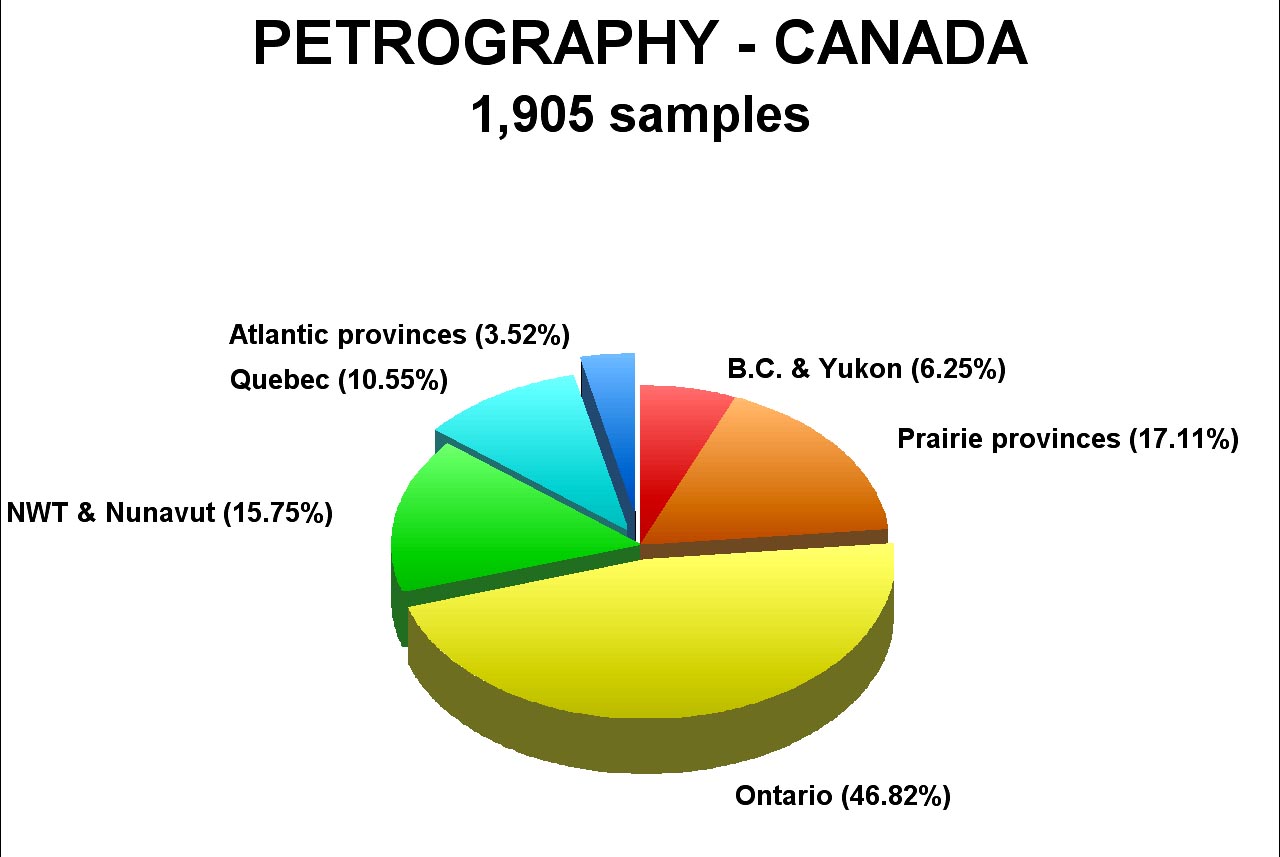 ---
CANADA: ALTA, BC, MAN, NB, NS, NFLD, NUNA, NWT, ONT, QUE, SASK, YUK

Greenland

U.S.A.: AK, AZ, CA, CO, CT, IA, ID, KS, MI, MN,
MT, ND, NE, NH, NM, NV, NY, OR, PA, SD, TX, UT, VA, WA (24 states)

MEXICO: CHI, COA, DUR, GTO, GUE, MEX, MICH, PUE, QUE, SIN, SLP, SON, VER, ZAC

SOUTH AMERICA: Argentina, Bolivia, Brazil, Chile, Ecuador, Guyana, Peru, Suriname, Venezuela

CARIBBEAN: Cuba, Jamaica, Montserrat

CENTRAL AMERICA: Costa Rica, Guatemala, Honduras, Nicaragua, Panama
---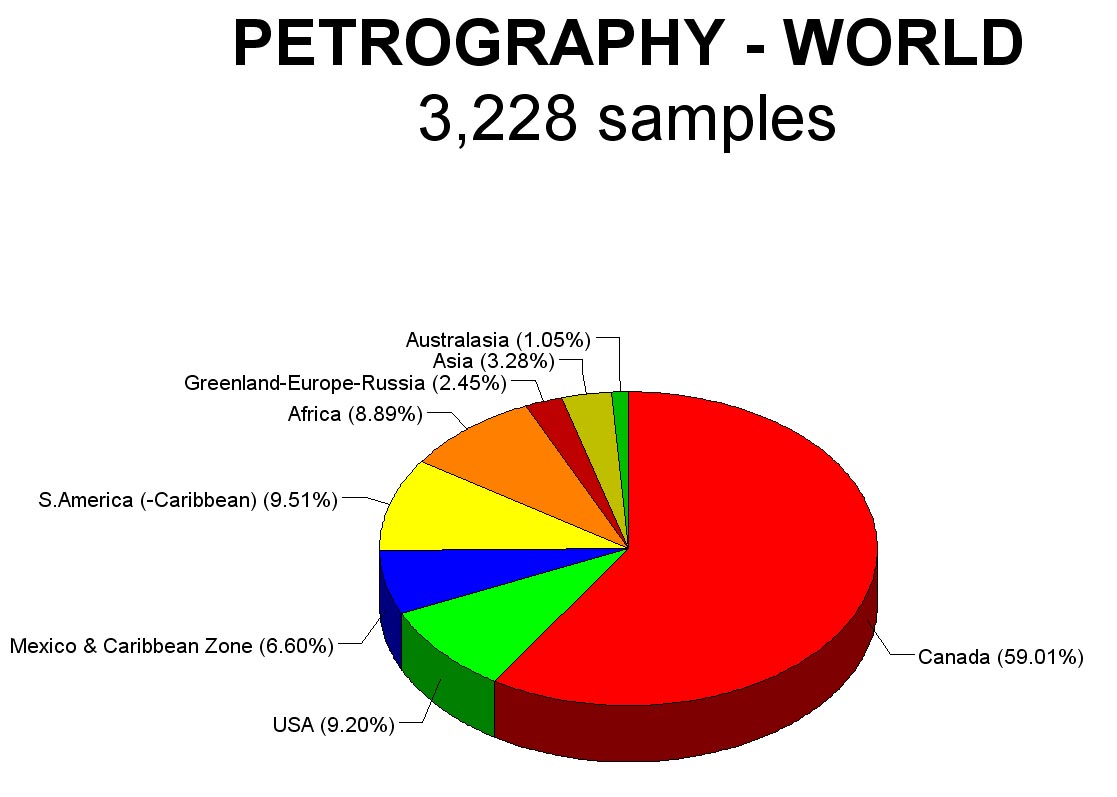 ---
Return to Introduction Last minor updates, 15 November 2019 by Graham Wilson (charts include mineralogy through Descr. 3228 only)