The common nighthawk (Chordeiles minor) and
chimney swift (Chaetura pelagica) - local seasonal appearance
Based on the timing of 87 observations of two summer residents in Seymour township, Northumberland county, southeast Ontario, 1999-2004.
The earliest and latest sightings in this six-year period were 13 May to 25 August (nighthawk) and 11 May to 07 August (chimney swift). 24 sightings were noted for the nighthawk (lower data set on the plot), declining gradually from May to August, plus 63 sightings or sound-recognitions of chimney swifts, with clear peaks in May and July (upon return and prior to departure), based on all available data.

No nighthawks were heard or seen in the area during 2003, and only one in 2004, on 13th May - this is disturbing, as the birds have seemed like a seasonal clock over the past 20 years, typically appearing along the Lake Ontario shore and downtown Toronto around May 20th each year. A report on birds at Presqu'ile for Saturday 30 August 2003 noted the sighting of six nighthawks over the marsh, a park record for the year to that date.

The typical migration times of these birds through Presqu'ile provincial park, located roughly 40 km south of the town on the north shore of Lake Ontario, is around mid-May and mid-September (nighthawk) and late April and early October (chimney swift: LaForest, 1993, pp.218,221).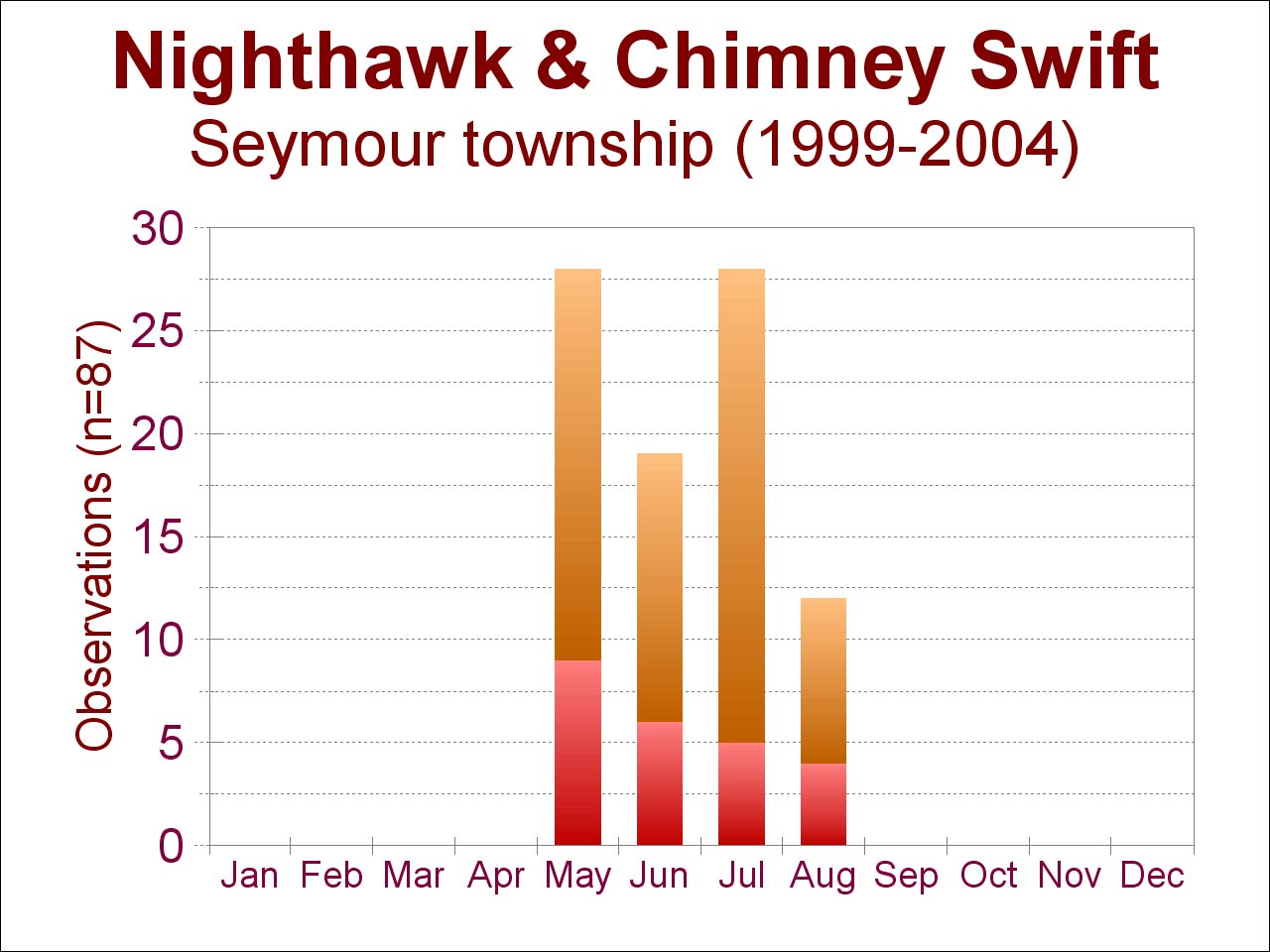 UPDATE: In 2022, I intend to update the local status of 4 summer residents, all insect-eating species: the nighthawk, chimney swift, barn swallow and tree swallow. Since these notes were first written, close to 20 years ago, these birds have seen a drastic decline in our region. While there may be local holdouts for some, e.g., farmyard barns for swallows, it appears that the nighthawk and possibly the chimney swift are all but extirpated from our area. Reasons are diverse, but decline in the populations of flying insects is surely the key factor. Shortages of acceptable nest sites for each species (hollow trees, gravel roofing, chimneys...) may be another explanation. I never thought I would worry about the vanishing of mosquitoes and blackflies! Global warming may be another force in play here: in this case, possibly the birds now nest further to the north, in which case the locally-dire viewpoint may indicate extirpation rather than extinction.

Bird expert Pete Dunne (2022) described a short (1 or 2 mugs- of- coffee length) observing period on the Delaware Bayshore, in southwestern New Jersey, some 600 km S.S.E. of Trent Hills. The observations were made one mid-August morning, almost certainly (though not explicitly stated) in 2021. The salt marshes on the east side of Delaware Bay run north from the famed birding hot-spot of Cape May. Assorted swallow species, and a huge transient population of purple martins occur here, along with many ospreys, and other birds. Dunne also notes "chimney swifts, as omnipresent as crickets this time of year. On trembling wings, scores of swifts cut cookie-cutter patterns over our town, feasting on the insect riches of the Bayshore". That's a relief: swifts seem to be doing well in other places, even though our local population has plummeted.

Leslie Anthony (2020), writing in Canadian Geographic, reviews Humanity's variable (determined to stumbling to non-existent) efforts at stabilizing biodiversity. Buried in his good review are some worthy morsels, food for thought. Here are just two of these:
Bridget Stutchbury (York University) is quoted as estimating the cost of improving the status of one endangered bird species at 1 million dollars a year and that, by extension, "if every taxpayer in North America gave $10 each year, we could probably save everything (in North America)" (ibid., p.63). Collectively, we have the money. No doubt - because habitat degradation is a key driver of biodiversity loss - in many cases the actions taken to help one species would help many others, at no extra cost.
The second point is especially relevant to attempts at documenting regional biodiversity, such as the natural history listings and species profiles on this web site. Anthony cites fisheries scientist Daniel Pauly (University of British Columbia) as identifying, in 1995, a phenomenon known as shifting baseline syndrome (ibid., p.66). This refers to a tendency to overlook the past. In our case, every generation of scientist- naturalists reviews their chosen field as their careers progress, and inevitably looks back 10, 20, 40 or more years, to the conditions that applied when they began. But factors such as, say, the number of nighthawks seen in one area in a summer, will have varied for millennia, and certainly back to a time when human activity had essentially zero impact on most wildlife populations. At the very least, we need to seek the advice of our elders, while they are still with us, and to hunt the relevant literature for clues to past conditions.
Updates on these and other species are intended for 2022.
References
Anthony,L (2020) The sixth extinction. Canadian Geographic 140 no.5, 58-67, September.
Dunne,P (2022) Got to make the morning last. Birdwatching 36 no.1, 14-15, January.
LaForest,SM (1993) Birds of Presqu'ile Provincial Park. Friends of Presqu'ile Park / Ontario Ministry of Natural Resources, 436pp.

Graham Wilson, posted 20 May 2003, updated 08 July 2005, 15 January 2022, 06 February 2022
---
Township Bird List
Local Info
---