American goldfinch (Carduelis tristis) - local seasonal appearance
Based on 93 observations in Seymour township, Northumberland county, southeast Ontario, 1999-2003,
and a total of 885 observations through to 22 March 2022.
The earliest and latest sightings in the initial 5-year period were 10 April and 21 October, with two exceptions. Two winter sightings were made in 12 and 14 January 2000, involving a pair of goldfinches and a pair of eastern bluebirds, in -10°C weather. One or both goldfinches were seen on both days. As we will see, the occurrence of the bird is very variable from year to year, spanning all 12 months with a summer peak. That said, the "wild canary" may be a persistent garden visitor in some winters... The goldfinch is indeed a tenacious visitor to bird feeders in winter, where their pale plumage contrasts with the vivid yellow, black and white of the breeding season. They love nyjer seeds but also accept a range of other foods. Away from the garden, the presence of weed seeds and food on trees is key to successful overwintering. In the winter of 2021-2022 they were the most abundant visitor to some feeders, ours included. We would see a flurry of birds, with as few as one to 3, and suddenly 25-45 birds. Four individuals would occupy the perches on a small nyjer feeder, then the snowy ground under the feeders would be crowded with a flock in constant motion.

Levine (1998, pp.571-572) notes that, in New York state, the American goldfinch may be both sedentary and migratory. The goldfinch is the latest breeding bird in the state, usually late June to late September, perhaps a strategy to minimize the effect of that brood parasite, the brown-headed cowbird. Nesting may also correlate with the development of thistles, used for both food and nesting material.

In the greater Kingston region (Weir, 1989, pp.482-483) the goldfinch has been a common resident and seasonal migrant since at least the 19th century. Human activity, such as splitting up unbroken forest, generating open fields, and, in time, the installation of winter birdfeeders, seems to have helped the species. As in New York, it is the latest of nesting birds, in company with the cedar waxwing. Autumn migration runs from late August to mid-November, and is heaviest in September and October.

The goldfinch is common across much of Ontario (and much of North America), and Ontario numbers have risen in the 20th century (Cadman et al., 1987, pp.500-501; 2007, pp.623-625). The fields, woodland margins and hedgerows of our district are conducive to its presence.

These brightly-coloured, distinctive birds may be seen on any date, with a slight but notable peak in May (despite absence of the observer for much of April-May, 2016-2019). It is common from mid-May to early October, and an irregular winter presence, at Presqu'ile provincial park, some 40 km to the south, where up to 100 birds may be seen daily in May (LaForest, 1993, p.388). In the Kawarthas, the goldfinch nests very late, usually August-September (Sadler, 1983, p.165).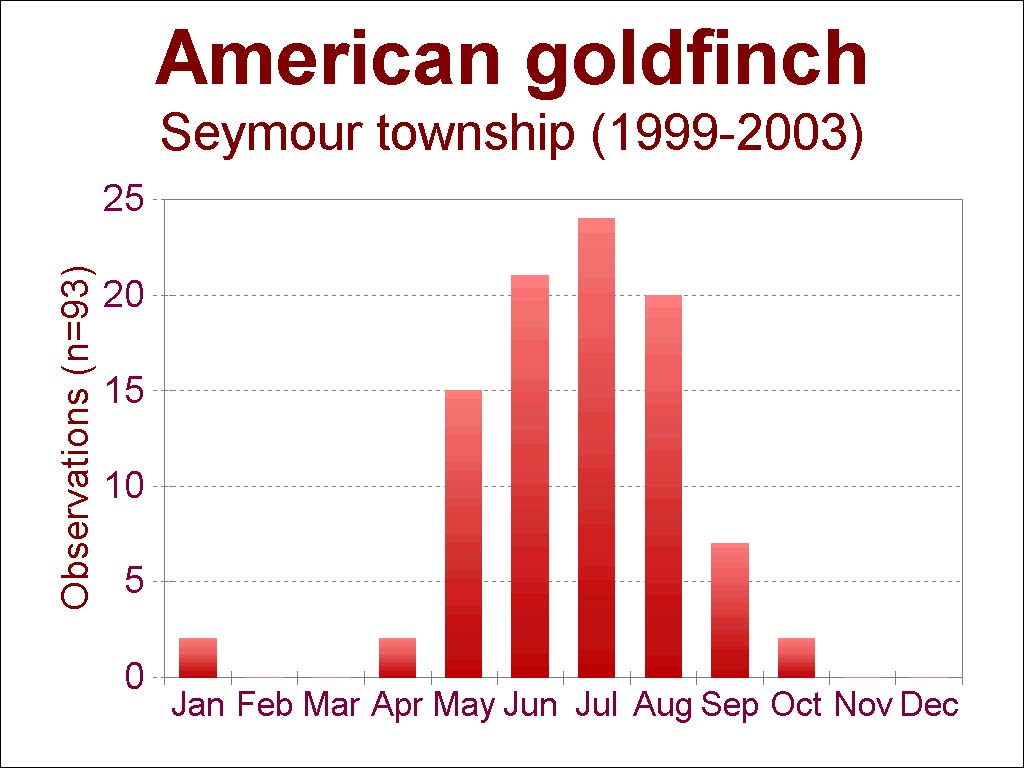 Above is a chart of seasonal occurrence based on limited data, some 20 years ago!
See below for a more detailed analysis.
View the complete 23-year (1999-2021) monthly data summary (233-kb pdf file).
References
Cadman,MD, Eagles,PFJ and Helleiner,FM (1987) Atlas of the Breeding Birds of Ontario. Federation of Ontario Naturalists and Long Point Bird Observatory, published by University of Waterloo Press, 617pp.
Cadman,MD, Sutherland,DA, Beck,GG, Lepage,D and Couturier,AR (editors) (2007) Atlas of the Breeding Birds of Ontario, 2001-2005. Bird Studies Canada,Environment Canada,Ontario Field Ornithologists, Ontario Ministry of Natural Resources, and Ontario Nature, 706pp.
LaForest,SM (1993) Birds of Presqu'ile Provincial Park. Friends of Presqu'ile Park / Ontario Ministry of Natural Resources, 436pp.
Levine,E (editor) (1998) Bull's Birds of New York State. Comstock Publishing Associates, Cornell University Press, revised version, 622pp.
Sadler,D (1983) Our Heritage of Birds: Peterborough County in the Kawarthas. Peterborough Field Naturalists / Orchid Press, Peterborough, ON, 192pp.
Weir,RD (1989) Birds of the Kingston Area. Quarry Press, 608pp. plus map.
Graham Wilson, posted 30 June 2003, upgraded 02 January 2004, major update 21-22 March 2022
---
Township Bird List
Local Info
---