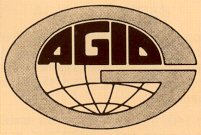 AGID CANADA
Book & Journal Donation Project
News Update No.9.
AGID CANADA is pleased to announce the successful delivery to Nigeria of the largest consignment in the long history of the project, a 20-foot container of some 16 pallets of books and journals. This major shipment, approximately eight (8) tonnes in weight, will help the Nigerian centres of higher learning listed below. Our thanks go out to all those who helped in the shipping and receiving process, especially to those staff members at the University of Port Harcourt who worked to ensure that the consignments for the other universities were properly received, held and delivered.
The library collections will now be augmented by many books in diverse fields, as well as long journal runs of such periodicals as the: American Mineralogist; Bulletin of the American Association of Petroleum Geologists; Bulletin of Canadian Petroleum Geology; Canadian Geotechnical Journal; Canadian Journal of Earth Science; Canadian Mineralogist; Deep Sea Research; Economic Geology; Geophysics; Geoscience Canada; Journal of Geology; Palaeontology; Tectonics, and others. The consignment also included a number of high-quality school texts for science students.
University of Port Harcourt
Federal University of Technology - Akure
Delta State University - Abraka
Nnamdi Azikiwe University - Awka
Ahmadu Bello University - Zaria
and,
to be collected:
University of Jos

For enquiries on this project, please contact Owen White, address below.
Prepared by Graham Wilson, memo released on 23 March 2008
---
or contact us at:
AGID CANADA, c/o
Dr Owen L. White
P.O. Box 860, Station K,
Toronto, Ontario
M4P 2H2 Canada

Tel (416)-481-4731
Fax (416)-482-4256
E-mail owen.white@sympatico.ca
---